Jim Williams is President and Founder of Media Strategies and Solutions, LLC (MediaSandS).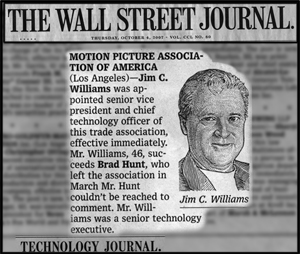 Jim is the former SVP & CTO of the Motion Picture Association of America, Inc. (MPAA), where he worked closely with Warner Bros., The Walt Disney Company, 20th Century Fox, Universal Pictures, Paramount Pictures and Sony Pictures to advance movie and television producer's interests throughout the world.
Jim is also a former executive with DIRECTV leading the startup of DIRECTV Japan, the launch of the first US nationwide HDTV service and STB development.
Jim holds fifteen US patents and numerous foreign patents, has won six Emmys and has delivered over fifty addresses on five continents. Jim serves on the Board of Directors of Mastermedia International.